Aquaculture Vaccines Industry Overview
The global aquaculture vaccines market size is expected to reach USD 605.4 million by 2028, according to a new report by Grand View Research. It is expected to expand at a CAGR of 8.4% from 2021 to 2028. The advent of vaccines for fish has significantly reduced the dependency on antimicrobial agents. Vaccination programs help in protecting the animal health and livelihoods of those who work with livestock as well as aid in ensuring food security. The development of some aquaculture sectors, such as the salmon industry in Norway, wherein fish farmers in the country moved from using antibiotics to vaccines by 1994, demonstrates the potential of vaccines in reducing the dependence on veterinary medicines.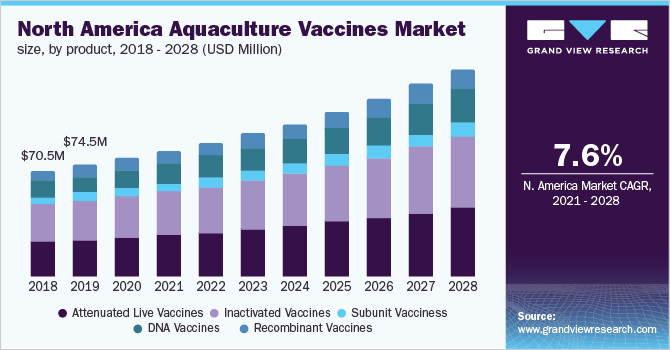 Aquaculture Vaccines Market Segmentation
Grand View Research has segmented the global aquaculture vaccines market report on the basis of product, route of administration, application, and region:
Based on the Product Insights, the market is segmented into Attenuated Live Vaccines, Inactivated Vaccines, Subunit Vaccines, DNA Vaccines, Recombinant Vaccines.
Inactivated vaccines held the largest share of 34.89% in 2020. Inactivated bacterial and viral vaccines are manufactured by the fermentation of the disease-causing pathogens in large quantities. Inactivating agents such as formalin are then introduced to kill all the microorganisms. These inactivated organisms elicit an immune response as they retain their basic shape, original antigen characteristics, and structure.
The recombinant vaccines segment is expected to register a CAGR of 8.65% from 2021 to 2028. Recombinant vaccines help evoke a strong immune response in the vaccinated fish, as they can mimic naturally occurring infections. It is also easier to produce recombinant vaccines in large quantities and on a commercial scale.
Based on the Route Of Administration Insights, the market is segmented into Oral, Injected, Immersion & Spray.
The injected segment held the largest share of 36.73% in 2020. Apex-IHN by Elanco is the first DNA vaccine licensed in Canada for protection against IHNV in healthy salmonid fishes. Alpha Ject lineup by Zoetis is injectable Aquaculture Vaccines for protection against various diseases, including furunculosis, vibriosis, cold-water vibriosis, winter sore, IPN, and Infectious Salmon Anemia (ISA).
The oral segment is expected to expand at the highest CAGR of 8.7% during the forecast period. Oral vaccination has several advantages over other routes of administration. The process is non-invasive, does not require handling of the fish, and is easy to administer and suited for mass immunization. This aids in the growth of the segment.
Based on the Application Insights, the market is segmented into Bacterial, Viral and Parasitic.
The bacterial segment held the largest share of 43.94% in 2020. As per Aquatic Animal Health Research by the USDA, bacterial species of more than 20 genera have been identified as causative agents behind Aquatic diseases. They affect over 20 species of freshwater and marine water fishes. Aquatic diseases lead to significant economic losses in the aquaculture industry, which is estimated to be hundreds of million dollars annually.
The viral segment is expected to expand at the fastest CAGR of 8.74% during the forecast period. As per a report by the Responsible Use of Medicines in Agriculture Alliance (RUMA), the key groups of fish farmed via aquaculture, which are routinely vaccinated, are Atlantic salmon, rainbow trout, and Atlantic cod. The viral diseases commonly affecting these species are Salmon Pancreas Disease (SPD) caused by SPD virus, IPN caused by IPNV, and ISA caused by Salmon isavirus.
Aquaculture Vaccines Regional Outlook
North America
Europe
Asia Pacific
Latin America
Middle East & Africa
Key Companies Profile & Market Share Insights
Vendors are investing in product launches, geographical expansions, collaborative agreements, and acquisitions to sustain themselves in the market. The market is expected to become highly competitive as many startups are seeking opportunities in this sector.
Some of the prominent players operating in the global aquaculture vaccines market include,
Zoetis
Phibro Animal Health Corporation
Elanco
Merck & Co., Inc.
KBNP
CAVAC
Kyoto Biken Laboratories, Inc.
Nisseiken Co., Ltd.
Vaxxinova International BV
HIPRA
Order a free sample PDF of the Aquaculture Vaccines Market Intelligence Study, published by Grand View Research.