Europe Veterinary Pharmaceuticals Industry Overview
The Europe veterinary pharmaceuticals market size was valued at USD 5.4 billion in 2020 and is expected to expand at a compound annual growth rate (CAGR) of 6.8% from 2021 to 2028.
The growing awareness about zoonoses, the humanization of pets, the availability of pet insurance, and R&D initiatives by market players are the key factors anticipated to fuel the market growth in the coming years. Boehringer Ingelheim, for instance, initiated over 450 clinical studies in 2020. The company received over 240 product authorizations that included approval for Aservo Equihaler in the EU for the alleviation of severe equine asthma. The impact of the COVID-19 pandemic on the European market was varied. The adverse effects include dampened demand, operational hurdles, and low sales. This was a result of movement restrictions, quarantine protocols implemented by governments, and deferred or canceled veterinary visits due to lockdowns. For instance, MSD's (Merck) animal health division registered an estimated negative impact of about USD 100 million during 2020, whereas Elanco witnessed a 25% decline in revenue during Q2 2020. Elanco's food animal products segment was the most affected due to pressured producer economics, processing plant closures, and reduced foodservice demand. Reduced demand for brands administered in veterinary clinics, notably vaccines, impacted the companion animal segment.
Gather more insights about the market drivers, restrains and growth of the Europe Veterinary Pharmaceuticals Market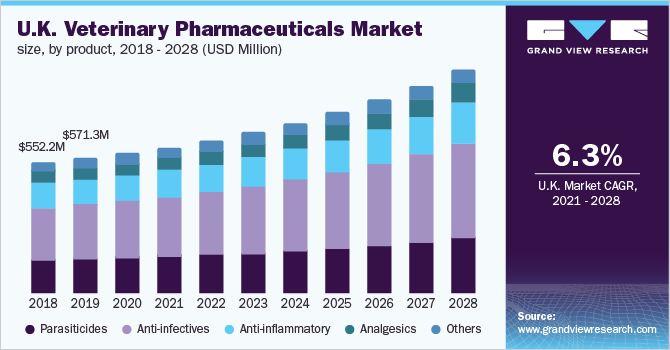 However, companies also recorded increased demand for pet medications and the adoption of telehealth. Boehringer Ingelheim, for instance, experienced a rise in product sales in the companion animal segment despite restricted access to veterinary clinics due to lockdown measures. However, the company reported a drastic decline in demand for its livestock products due to the closures of slaughterhouses and restaurants. In addition, the pandemic propelled the use of online channels, thus impacting customer buying patterns and promoting curb-side or virtual vet visits. As per Boehringer Ingelheim, therapeutic innovation is anticipated to boost the growth in the animal health business in the future.
Pharmaceutical drugs sold as prescription medications to treat pets may be needed for the short term or as a lifelong medication to improve the quality of life. As per Animal health Europe, European households spent over EUR 2.7 billion on veterinary medicines in 2019. In order to help pet owners offset the high costs of veterinary medications and treatment, insurance companies have started offering custom or tiered pet insurance plans. Pet insurance policies provide a wide coverage including medication, tests, surgery, and diagnostics. For instance, Agria, the largest pet insurance provider in Sweden, provides coverage for several veterinary care procedures including prescription medicines as well as drugs purchased through online channels. The rising adoption of pet insurance is thus expected to fuel the market growth.
The availability and use of generic veterinary medicines are also growing as per the European Group for Generic Veterinary Products (EGGVP). This is owing to the expiry of patents and increasing R&D activities by small, medium, and large-sized market players to leverage the opportunity and increase their market share. The formulation patent for Draxxin (a product of Zoetis) containing the active ingredient tulathromycin expired in late 2020 in Europe and other key markets. Generic tulathromycin products are now marketed in several key markets such as Canada, Mexico, Europe, and Australia. Norbrook, based in the U.K., follows a product model that mainly involves using molecules already established in the pharmaceutical industry. The company's R&D strategy focuses on offering its customers a balanced portfolio of veterinary pharmaceutical products by being the first generic to the market wherever possible.
Browse through Grand View Research's Animal Health Industry Research Reports.
Veterinary Telehealth Market – The global veterinary telehealth market size was valued at USD 119.6 million in 2021 and is expected to expand at a compound annual growth rate (CAGR) of 17.6% from 2022 to 2030.
Veterinary Medicine Market – The global veterinary medicine market size was estimated at USD 29.4 billion in 2021 and is expected to grow at a compound annual growth rate (CAGR) of 7.3% from 2022 to 2030.
Market Share Insights
May 2021: Inovet, headquartered in Belgium, invested in new facilities in France, in response to the continued high demand for livestock medicines and to increase its production capacity.
July 2020: Calier launched Dynacan spot-on for ferrets, cats, and dogs. This added to the company's antiparasitic products portfolio.
May 2020: The company launched PetPro Tele+, in response to the COVID-19 pandemic as a standalone and telemedicine version of PetPro Connect.
Key Companies profiled:
Some prominent players in the Europe veterinary pharmaceuticals market include
MSD
Ceva
Vetoquinol S.A.
Zoetis
Boehringer Ingelheim International GmbH
Elanco
Virbac
Calier
Bimeda, Inc.
Prodivet pharmaceuticals sa/nv
Order a free sample PDF of the Europe Veterinary Pharmaceuticals Market Intelligence Study, published by Grand View Research.