However, the probability of the individual converting is contingent on many things. This includes the individual's interest in the product or service on display. Further, the average time that drivers spend at the gas station does not go beyond ten minutes. Oftentimes, the drivers' eyes are on the gas pump to ensure the dispensation of the right amount of fuel. Therefore, one might see the ad but that is just about all that happens. There is no time to take in the message.
Gas station advertising vs ambient marketing
According to this analysis, advertising on gas stations results in more conversion rates compared to traditional advertising mediums. Indeed, gas station advertising performs better than billboards in terms of conversion rates. However, the medium still suffers problems like inability to target the audience. It is not worthwhile to achieve ridiculously high conversion rates but without reaching the exact audience.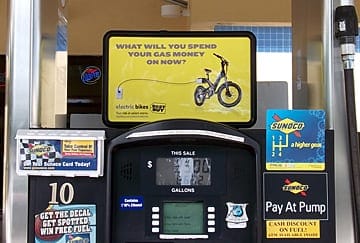 On the other hand, ambient marketing looks like the best alternative an advertiser could use. For starters, ambient marketing utilizes unconventional tactics to put the ad in the hands of the target audience. There can never be a better targeting scheme than this. Notably, all the advertiser needs is a good strategy. Some of the strategies include using custom-printed coffee cup sleeves to run an ad campaign. Interestingly, one may spend $10,000 to run a three-month long ad campaign. At the end of it all, the brand will be more visible and engagement rates will shoot through the roof.
An emerging creative advertising is Ambient Marketing. The concept refers to the usage of attention-grabbing events by utilizing contextual elements of the target groups. This niche media surged to overcome traditional methods of advertising to get the attention of consumers.
One of the sub-segments of Ambient Marketing is In-Hand advertising. This concept relies on placing ads on consumables that the target audience can't ignore as they must take them in their hands. Such consumables can be: door hangers, pizza box toppers, prescription bags, drink coasters, Custom Coffee Sleeves, hotel key cards.