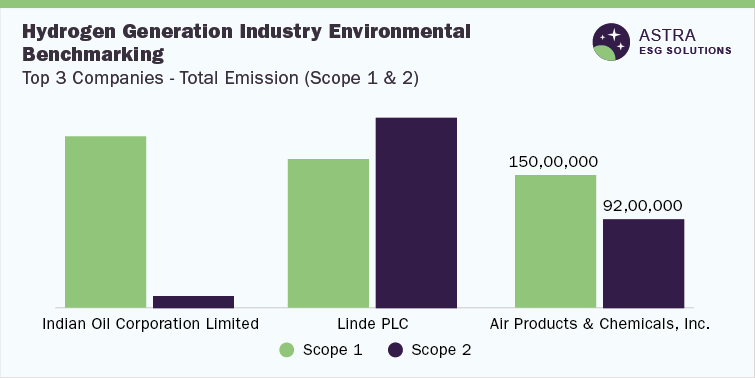 The average ESG disclosure score for the hydrogen generation market stands between 40% and 50%. This conclusion is based on the analysis of more than 60 Environment, Social, & Corporate Governance (ESG) parameters within our ESG scoring framework. Alongside Linde PLC and Indian Oil Corporation, six other market leaders were part of our research. This research identified that only four companies, including Indian Oil Corporation and Linde PLC, scored above the average industry score while the four other leading companies are required to improve their ESG transparency & reporting, as they scored well below 40%. Our research found that majority of the ESG disclosures have been made around the governance metric, with Linde PLC being a leader in this sector when compared to other companies, such as Bloom Energy Corp & Air Liquide, from an overall ESG disclosure point of view.
For More Details: https://astra.grandviewresearch.com/hydrogen-generation-industry-esg-outlook
Environmental insights
Since 1975, there has been a threefold increase in demand for hydrogen. However, its production poses significant consequences for the environment, as it is almost entirely derived from fossil fuels and around 800 million tons of CO2 equivalent emissions are released annually in hydrogen production. The enormity of hydrogen production is such that around 6% of natural gas produced globally goes into producing hydrogen.
Social insights
Within the social component of ESG, improvements around the value chain of a firm, increase in employee engagement & retention, and the method of promoting business continuity are mainly measured. Around seven out of eight companies, i.e., 87.5% of the companies in the industry, have a Human Rights Policy integrated in their supply chain. However, barring some industry leaders, such as Linde PLC and Indian Oil Corporation, none of the other companies have a supplier code of conduct. This outlines opportunities for improvement in terms of value chain operations among other competitors in the industry. Few companies like Bloom Energy Corporation, despite having lower social score, have a publicly available business partner/supply chain policy and furthermore conduct supply chain audits. Similarly, other companies require audits in place to follow due diligence regarding supplier code of conduct.
Governance insights
Financial outperformance is long discussed to have a strong relationship with ESG metrics; however, the governance factor is identified to have a more substantial impact on this factor (financial outperformance), based on empirical evidence. Governance metrics affecting valuation of corporate businesses are corporate governance, code of business conduct, risk & crisis management, tax strategy, supply chain management, and policy influence & materiality.
The industry leaders in social benchmarking are Air Products and Chemicals Inc., with around 80% governance score, followed by Air Liquide, which has a score well above 70%. However, in terms of female representation, Air Liquide has the highest proportion of female on board, at more than 50%, which is higher than the industry leaders Air Products and Chemicals Inc.
Request for Free Demo: https://astra.grandviewresearch.com/hydrogen-generation-industry-esg-outlook/request/rs1