Procurement in the Pharmaceutical Industry
The procurement of raw materials in any pharmaceutical company is a source of inventory. An established method to improve visibility, track, and trace product quality is a must-have, regardless if it's a manual, electronic, or a hybrid purchase-to-pay process. Procurement in the pharmaceutical industry is thoroughly scrutinized, and businesses have become more cautious of raw material and service spending. Many companies are evaluating different suppliers, who can fulfill their requirements at a lower cost, with attention to overall spending and quality requirements.
A robust supply chain management system is needed to:
manage on hand inventory, and
build a more reliable end-to-end pharmaceutical supply chain.
What are some considerations when revisiting purchasing functions?
This question shines a light on companies' need to organize their purchasing process, include more visibility for senior management, and increase traceability of purchasing transactions for streamlining the procurement process. A comprehensive supply chain management solution with low-code and customizable workflows to modernize the pharmaceutical procurement process will be an incredibly valuable asset.
FIGURE: 1Checklists to Turn Your Supply Chain More Efficient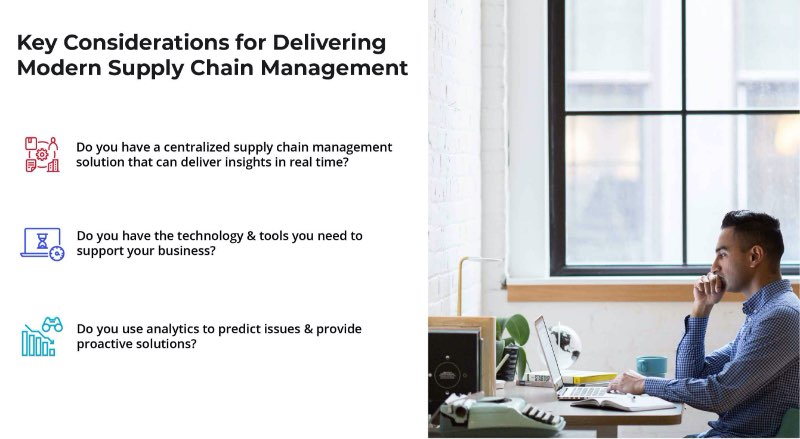 Businesses can benefit through a supply chain management system with advanced procurement processes to help accomplish the following objectives.
01.

Ensure Compliance:

Failure in quality compliance can result in hefty penalties and may jeopardize customer trust, especially when activities, such as buying from approved vendors or segregation of duties between the buyer and invoicer, are compromised. Your procurement management system should provide the ability to perform required audits with controls, and enable only authorized users to perform their appropriate functions. Preferably, a pharmaceutical supply chain management system needs to be in full compliance with 21 CFR part 11.
02.

Support Strategic Vision:

Successful life science companies focus on strategic planning and development to boost their bottom line. Any modern supply chain management system should help an organization achieve its strategic goals. Functions like a streamlined buying process are possible with spend analytics, derived from multiple dimensions of purchase transactions. Factors, such as the success rate of higher quality materials from approved suppliers, competitive pricing details, and gauging on time and in full payments from preferred suppliers, are a few key analytics that can help improve decision-making within the purchasing department of the organization to meet their goals.
03.

Effective Supplier Relationship Management:

Long-lasting supplier relationships are crucial to procuring higher quality products at the lowest prices. Building a strong relationship with a familiar supplier is far more effective than continually switching vendors to lower costs. Frequently changing suppliers places an additional burden on the entire procurement ecosystem. Suppliers put a lot of effort into understanding your business' needs over time, including feedback on the quality of raw materials purchased and the speed of shipments delivered, allowing them to make any necessary corrections to their processes. A supply chain management system that supports collaboration in such cases, helps integrate suppliers as partners to add value to the overall supply chain process.

FIGURE: 2Supplier Relationship Management
04.

Reduce Operational Costs:

Buyers or purchasing managers should be able to quickly analyze products offered by various suppliers spread across multiple geographical locations in order to secure the best pricing and reduce expenses.

The right kind of solution should eliminate wasteful spending—a critical factor in calculating the performance of any organization.

A detailed view of supplier insights can help make decisions while identifying the best supplier for various materials. Identifying solutions to balance the cost and quality of purchased materials, can help significantly reduce operational overhead without compromising on any KPIs of pharmaceutical procurement. Result-oriented companies in the life science industry should have a well-thought-out method in place to manage procurement functions, allowing them to maintain highly competitive prices without compromising the quality of a lot.

FIGURE: 3Better tools for modern supply chain management

Book your free consultation to improving pharmaceutical supply chain procurement