Introduction
Having a complete view of inbound shipments is critical for chemical manufacturers not just for maintaining accurate product counts, ensuring on-time delivery or monitoring rising transportation costs, but also for keeping an eye on the Department of Transportation's (DOT) requirements for transporting chemicals. The chemical industry being more highly-regulated, companies need to meet regulatory needs and address real-time issues. It will help in mitigating supply chain challenges in the chemical industry.
A Violation of Federal Hazardous Materials Regulations can cost your company a hefty sum between $79,976.00 and $500,000.
The consequences of failing quality controls and of initiating product recalls are too high to afford. With a rise in competition, increasing challenges related to transportation, and growing customer expectations amidst the Covid-19 pandemic, chemical manufacturers can't afford to make any mistakes.
Managing freight can be an enormous task when you have to handle hundreds of shipments per day. When it comes to the chemical industry, the complexity multiplies as you need to ensure accurate product labeling for such a huge lot. Without clear visibility over the shipments expected daily, it's impossible to plan the classification and storage of materials, and how much workforce is needed. Chemical companies need to ensure end-to-end supply chain visibility in order to run operations smoothly.
Consequences of Poor Freight Management
Poor freight management can result in a variety of problems for businesses and raise supply chain challenges in the chemical industry, including
Damaged, lost, or late deliveries
Customer complaints due to delays in processing
Delays in downstream work orders
Exceeded cost of freight due to carrier policies
Wasted raw materials and space due to unaccounted inventory
Decreased productivity due to poor scheduling
Unreported delays lead to an increase in inventory carrying costs, often as high as 30-40% of total inventory costs.
This list doesn't account for accidents, either. What if hazardous materials get mixed up with another order? How will you know? Mistakes like this can be disastrous.
The Key Solution
Starting with raw materials, moving through production and on to end-user delivery, each stage of a chemical product's passage requires planning, tracking, and implementation. Companies need a centralized and secured solution that offers flexibility and the ability to integrate, automate, and be optimized across different locations. Solutions that provide enterprise labeling benefit companies by boosting efficiency, accuracy, and reliability and offer significant cost savings amid these highly regulated environments.
Managing Hazardous Freight – Responsibility of the Manufacturer and Carrier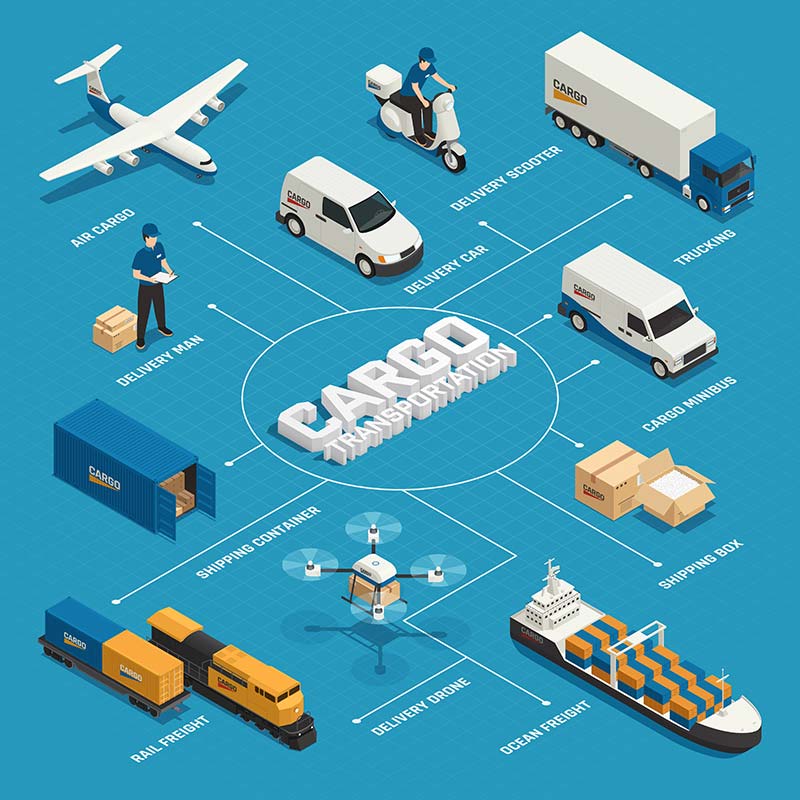 A manufacturer shipping product has the primary responsibility for identifying hazardous materials, which can be an essential task. When shipping chemicals, the company needs to ensure that all details are captured accurately to avoid compliance failures. Below is an example of things that need to be completed when preparing chemicals to be shipped.
Hazardous Materials Manufacturer's Shipping checklist
The material meets the definition of 'Hazardous Material'
The employee training for the job
Documentation includes the proper shipping name
Documentation includes correct Classification/ Division
Documentation includes correct Identification Number
Documentation includes correct Hazard Warning Labels and Markings
Correct Packaging is used
Blocking and Bracing requirements are outlined
Shipping Manifest is complete and accurate
The emergency Response information is included
Emergency Response contact information is up to date
Certifications are complete and up to date
Security plans and processes are up to date
Incident reporting procedures are up to date
Product Compatibility is accounted for when shipping multiple chemicals together
On the flip side, the carrier is responsible for validating the products being shipped by the manufacturer. They need to check that the materials provided by the shipper are accurately described and adequately packaged. They also need to ensure the vehicle to be used suitable for the materials being shipped based on determined guidelines. As well, the vehicles themselves must be in sound mechanical condition. Below are some additional considerations and responsibilities that fall upon Carriers when it comes to transporting hazardous materials.
Hazardous Materials Carrier Responsibilities
Documents and manifests are accurate and complete
Proper labels and Placards are in place on both the vehicle and the shipment
Loading and unloading of the materials are done safely per set guidelines
Employee Training is complete
Security plans and processes are up to date
Incident reporting procedures are up to date
Adequate Blocking and Bracing is used according to set guidelines
Product Compatibility is accounted for when shipping multiple chemicals together
The Real Cost of Freight
The actual cost of freight can only be realized when the product is checked after it hits the dock. Aside from additional fees from things like layovers, oversized cargo, after-hour deliveries, etc., the final cost of deliveries can be influenced by things like mispacked orders, incomplete manifests, or damages incurred during shipping and unloading.
Thanks to a greater volume, several available resources, and infrastructure size, large businesses aren't as affected by fluctuations in costs due to shipping-based issues, but Small and Medium Business (SMBs) find themselves in a tight spot where they might have to negotiate as they ship in Less Than Truckload freight (LTL), with lower volumes. Unfortunately, manufacturers shipping products don't always have clarity on what will trigger additional fees. These issues with inbound shipments can affect all departments in a supply chain: Sales, Planning, Purchasing, Production, and Accounting, and possibly more.
Understanding your transportation process inside and out is the most effective solution to address supply chain challenges in the chemical industry. Staying on top of every process, every step of the way lets you track and monitor the movement and condition of products from start to finish. Lack of visibility into shipping is the most challenging thing to correct and can significantly impact both manufacturers and shipping companies.
55%
of Third Party Logistics suppliers (3PLs) said they either lost business or didn't know if they lost business due to lack of visibility of their offerings.
Source: A Recent Study by American Shipper
3 Transportation Challenges hindering the Visibility of Supply Chain
A supply chain can suffer from not knowing what's going on once a product leaves the building, and the reasons are relatively simple. Poor visibility of shipping data is the culmination of the following:
01.

Outdated Systems

Many companies still run their operations on antiquated systems, fundamentally designed for managing local-only supply chains. But successful supply chains operate globally, dynamically connecting production and procurement to sales and customer service with appropriate 'in transit' statuses. Maintaining freight visibility, especially for a multi-org/ multi-site/ multi-warehouse environment, is not an easy task, and obsolete systems make it an even more challenging objective.

A modern, cloud-based solution has the potential to provide a complete end-to-end view of a supply chain network. Switching operations to an integrated, multifunctional transportation management system (TMS) platform adds agility to your transportation network, ensuring seamless communication allowing organizations to respond proactively to unexpected issues and customer demands.
02.

Disparate Systems

There needs to be effective coordination and collaboration across multiple sites/ warehouses to effectively manage a supply chain. Running a business on many different applications is one of the biggest roadblocks to total freight visibility. If your organization's systems can't connect with your vendors, there's a good chance you're missing something.

Integrating existing applications with suppliers improves inventory management, communication, and freight visibility into all active and pending shipments. Connecting a TMS with warehouse operations allows shippers to derive detailed insights from inbound and outbound logistics within a single unified platform.
03.

Lack of collaboration

Tracking shipments in real-time is the core of transportation management. As loads are distributed across the thousands of different carriers utilized by 3PLs, it can be challenging to get reliable data from the entire carrier network. Trying to track shipping information manually, based on this unreliable data, leads to misestimated quotes and customer complaints. The power of business intelligence and advanced analytics can offer real-time visibility into shipping and location data to bridge this gap and deliver accurate tracking information directly from the supplier's carrier to the shipper. The customer is anticipating the delivery. This real-time visibility into inbound shipments helps with planning and adjustments to downstream activities as required.
Helpful Checklist Items For Determining the Right Visibility Solution
Unfortunately, not all logistics solutions are capable of delivering real-time visibility of shipments or product orders. You may have to weed through dozens of providers to find a solution that offers end-to-end supply chain visibility that meets your requirements.
A few questions to ask before finalizing a solution that works for you include the following:
Do they have AI-enabled software that records the movement of the truck without human intervention?
Are they able to generate automated email alerts in real-time?
How is this truck connected to the TMS?
How are they connecting the driver?
How robust is the integration? Are they able to demonstrate its capabilities?
Are they using SaaS technology that offers remote accessibility of data anytime?
Does the technology let you access the new features without the need for on-premise upgrades?
Does the solution provide end-to-end service or just a part of the delivery ecosystem?
What is its integration capacity? Can it be connected with other TMS systems, Electronic logging devices (ELDs), or Enterprise Resource Planning systems (ERPs)?
Final Thoughts
The most important takeaway is gaining end-to-end supply chain visibility. Best-in-class organizations have embraced the real-time capabilities of supply chain visibility, compliance to improve their performance. Embracing newer technologies can offer better connections to all parts of the supply chain for manufacturing companies. Providing more up-to-date information and analytics can be used to make decisions that help improve the overall optimization of cost of freight.
Reach out to us to Learn More about Microsoft Business Applications that can help enhance Freight visibility.