U.S. Home Healthcare Services Industry Overview
The U.S. home healthcare services market size was valued at USD 101.8 billion in 2020 and is expected to expand at a compound annual growth rate (CAGR) of 7.1% from 2021 to 2028.
Major factors driving the market growth are increasing demand for home healthcare, the high prevalence of chronic diseases, and the launch of innovative payment models by the government. Home healthcare services are currently in demand due to major factors such as the high geriatric population and their preference to stay at home as they age, instead of a medical facility. According to the U.S. Census Bureau, as of 2020 56 million Americans were 65 years or older and their number is expected to reach 84 million by 2040. Moreover, patients who opt for home healthcare services following hospital discharge experience fewer instances of readmission, higher satisfaction, better outcomes, fewer emergency room visits, and lower costs, which prove to be important contributors, apart from high demand, for the growth of home healthcare industry.
Gather more insights about the market drivers, restrains and growth of the U.S. Home Healthcare Services Market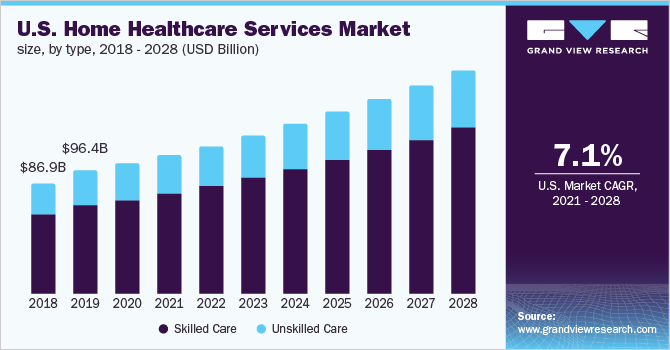 The concern of multiple chronic conditions (MCC) among the U.S. population is a major medical and public health challenge. MCCs include a broad array of physical illnesses, such as heart disease, diabetes, respiratory illness, asthma, and arthritis. One of the major contributors to the requirement of home healthcare services in the U.S. is Alzheimer's disease (AD). According to the Alzheimer's Association, the prevalence of individuals aged 65 and older living with Alzheimer's dementia is expected to be around 6.2 million during 2021. Patients with dementias require more annual home health care visits than other older people, making the disease severity a decisive factor for the market growth.
Expansion of the Home Health Value-Based Purchasing (HHVBP) model, declared by CMS in June 2021 in its proposed payment rule for 2022, is a significant change in the home health industry. Initially implemented in 2016 to create financial incentives to improve the quality of care, HHVBP has saved an average of around USD 141 million annually for Medicare since its inception. In addition, CMS has announced the increase of Medicare payments by 1.7% to home health agencies from 2022, which equates to an increase of around USD 310 million, and is expected to increase the affordability of care.
Browse through Grand View Research's Medical Devices Industry Research Reports.
Alzheimer's Therapeutics Market – The global Alzheimer's therapeutics market size was valued at USD 4.04 billion in 2021 and is expected to expand at a compound annual growth rate (CAGR) of 16.2% from 2022 to 2030.
Home Healthcare Market – The global home healthcare market size was valued at USD 320.6 billion in 2021 and is expected to expand at a compound annual growth rate (CAGR) of 7.9% from 2022 to 2030.
Market Share Insights
July 2021: South Carolina-based Prisma Health expanded its home recovery care program to its post-acute facility. Implementation of such programs helps patients reduce their hospital stay and in turn reduces the stress on hospital staff.
July 2021: Home Health Community Organization (HHCO) launched a technology platform to provide tools and other training resources for the skill development of its employees.
February 2021: Humana Inc. made an agreement with in-home care provider Dispatch Health to provide its patients with home healthcare in Tacoma and Denver.
Key Companies profiled:
Some prominent players in the U.S. home healthcare services market include
Kindred Healthcare, LLC
Brookdale Senior Living Inc.
Sunrise Senior Living, LLC
Genesis Healthcare, Inc.
Capital Senior Living Corporation
Diversicare Healthcare Services, Inc.
Senior Care Center
Atria Senior Living, Inc.
Amedisys, Inc.
Home Instead, Inc.
Order a free sample PDF of the U.S. Home Healthcare Services Market Intelligence Study, published by Grand View Research.